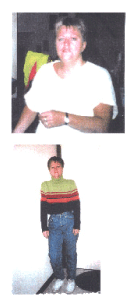 Jyl,
I can't believe you really called! As I told you on the phone, I had gone to my doctor and my cholesterol count was 285-so I immediately went on a fat free diet. My sister-in-law, Laurie, bought me three books-one was your FAT FREE SUPER COOKBOOK. I loved it. The other two books went back. These were recipes that were easy to follow and so delicious! I have not felt deprived at all!! My husband has lost 25 pounds and I have lost 24 pounds in just a few days shy of two months. I've gone from wearing a size 12 jeans down to a size 6. Best of all, my cholesterol has gone from 285 down to 191, triglycerides from 216 to 90. WOW!! I can't tell you how much better I feel! I have also been walking 2-4 miles a day, twice a day.I can't thank you enough for caring enough to develop these wonderful recipe books. I share them with my friends and family. I know that in order to stay healthy I must remain FAT FREE for life, but that's great when it can be done with such delicious food and I don't miss all that FAT at all!!
I can't wait to try out my new Bread Machine and FAT FREE Breads. They sound so good and I look forward to getting your new exercise book, Roll Yourself Thin in 12 Minutes.
I am now down to my goal weight, which is 115 pounds!! My husband has lost 30 or 35 pounds and went from a 40 inch waist to a 34 or 36. Now I am working on toning and maintaining! Thanks, Jyl, for all of your support!!
Pam Cook,
Fisher, IL