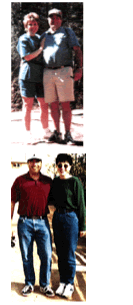 Dear Jyl,
Even though our families are good friends, and you and Gary see us quite often, I feel compelled to write this letter to you. I want you to know the impact Fat Free Living has had on our lives and the enormous change that has come about for Pete and I because we have changed the way we eat and live.
I remember the day we decided to embark on a journey of healthy living which will last for the rest of our lives. It was a Monday in June of 1996. Pete had called from his office and said, "Susan, we have to change the way we live." It was that simple. From that day forward, we began a daily exercise program and changed our diet to eliminate fats. We completely stopped eating processed foods, fats, red meats, and sugars.
This change has had a profound positive effect on both of us, but most of all on Pete. He lost fifty pounds, has gained stamina, endurance and muscle tone, his blood pressure has dropped and his cholesterol has lowered 50 points. To say this change has had a consequence would be an understatement. Eating healthy and exercising every day without fail has dramatically altered our lives for the better.
Keep up the great work, positive influence and kind and caring words of encouragement.
Susan Yannitelli,
Phoenix, AZ